Musing Mondays is a weekly meme originally hosted by Should Be Reading, where one is asked to muse about one of the following each week:
• Describe one of your reading habits.
• Tell us what book(s) you recently bought for yourself or someone else, and why you chose that/those book(s).
• What book are you currently desperate to get your hands on? Tell us about it!
• Tell us what you're reading right now — what you think of it, so far; why you chose it; what you are (or, aren't) enjoying it.
• Do you have a bookish rant? Something about books or reading (or the industry) that gets your ire up? Share it with us!
• Instead of the above questions, maybe you just want to ramble on about something else pertaining to books — let's hear it, then!
---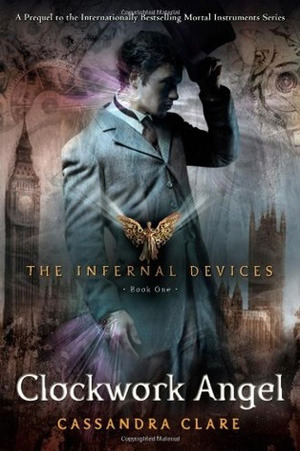 Fourth question's answer!
I'm currently reading Clockwork Angel by Cassandra Clare, just passed the third chapter. Everything works fine this far, except for the part that I'm still wondering what really makes Tessa Gray suddenly changed into a Downworlder, there's still not enough explanation for me. Perhaps it will gradually be revealed. I'm especially fascinated and totally attracted to William Herondale. The author successfully draws his feature in my mind
©_
©
I was just curious since visiting some book bloggers' site and knowing that they read Clare's The Infernal Devices and The Mortal Instruments series - one of my best friends also read this book. Hope it will work for me too.
Below is the blurb from Goodreads:
In a time when Shadowhunters are barely winning the fight against the forces of darkness, one battle will change the course of history forever. Welcome to the Infernal Devices trilogy, a stunning and dangerous prequel to the New York Times bestselling Mortal Instruments series.
The year is 1878. Tessa Gray descends into London's dark supernatural underworld in search of her missing brother. She soon discovers that her only allies are the demon-slaying Shadowhunters—including Will and Jem, the mysterious boys she is attracted to. Soon they find themselves up against the Pandemonium Club, a secret organization of vampires, demons, warlocks, and humans. Equipped with a magical army of unstoppable clockwork creatures, the Club is out to rule the British Empire, and only Tessa and her allies can stop them....