Image Source: Goodreads
Book Title: The Cuckoo's Calling
Publisher: Little, Brown and Company
Available Format: Hardcover Book, Electronic Book, Trade Paperback, Audiobook
Price: USD26.00 / IDR99,000 (Indonesian version)
Warning: Contains some vulgarity and some sensual scenes.
My rating: 4.0 out of 5.0
Goodreads' Blurb:
After losing his leg to a land mine in Afghanistan, Cormoran Strike is barely scraping by as a private investigator. Strike is down to one client, and creditors are calling. He has also just broken up with his longtime girlfriend and is living in his office.
Then John Bristow walks through his door with an amazing story: His sister, the legendary supermodel Lula Landry, known to her friends as the Cuckoo, famously fell to her death a few months earlier. The police ruled it a suicide, but John refuses to believe that. The case plunges Strike into the world of multimillionaire beauties, rock-star boyfriends, and desperate designers, and it introduces him to every variety of pleasure, enticement, seduction, and delusion known to man.
---
Why were you born when the snow was falling?
You should have come to the cuckoo's calling,
Or when grapes are green in the cluster,
Or, at least, when lithe swallows muster
For their far off flying
From summer dying.
Why did you die when the lambs were cropping?
You should have died at the apples' dropping,
When the grasshopper comes to trouble,
And the wheat-fields are sodden stubble,
And all winds go sighing
For sweet things dying.
---
The novel is opened with an epigraph from Christina Rossetti's poem, "A Dirge". With a desperate request from John Bristow, Strike begins his investigation on Lula Landry's death. There are several people whom Strike holds interviews; starts from those who were at the same apartment building on the day Lula died, her friends and families. Strike gets help from his temporary secretary, Robin Ellacott, who proves her capability throughout the investigation.
Almost the whole story is described through from Strike's perspective, with occasionally Ellacott's shows up. The novel is split into seven parts (including prologue and epilogue). Very little is known about Strike's past, even though there are some inside story of his previous romantic relationship with his ex-girlfriend, Charlotte.
Galbraith brings the readers to Strike's enigmatic journey to find the truth that despite the sparkling and posh life of a supermodel, there is always a price to pay.
The Bristow family's dark riddle, a long lost step-brother, the Bestiguis' hidden secret, and others are the key for Strike to reveal the enigma.
---
I have to admit that I read this book merely because of J.K. Rowling (after I found out that Robert Galbraith is her pseudonym). I have been a die-hard fan of Harry Potter and I also have read her other novel, The Casual Vacancy before. If it weren't for her, I doubt I would buy it, since crime fiction is not my favorite genre. Due to some
vulgarity and some sensual scenes in the book, I recommend it only for young adult and adult readers.
I bought this book via Indonesian book online shop and apparently they ran out of the first-edition cover. Since I was desperately wanting to get the book, I had to satisfy with the other cover, where it shows a woman facing whole lot of paps, which is not too attractive.
What I love the most about the novel is the use of common diction for the entirety of the content. At first, I thought that the author would choose more complicated words that it would give me a headache, but it was proven wrong. The
author
also makes the distinction for every character's dialect and peculiar articulation of sentences
whenever it's needed.
I need to give applause too for Ms. Rowling for ensuring me that she has taken down any writing similarity with Harry Potter.
The plot flows lightly, matching the logic of the story, which enables me to get it into my imagination and keep guessing about everything too.
Strike's effort in investigating the whole case is enough to support the revelation at the ending.
The most interesting character for me is Rochelle Onifade. Many of the characters, even Strike, wonder why such Goddess like Landry befriended a hobo like Onifade. But I think, Landry found a lot of similarity between Onifade and her biological mother, and it made her want to help Onifade.
I personally believe that the four stars I have given, is appropriate for this novel. Ms. Rowling is not too disappointing on her first attempt in this kind of genre.
Even though the story is a bit boring for the most part of the novel, but it goes more thrilling nearing the end.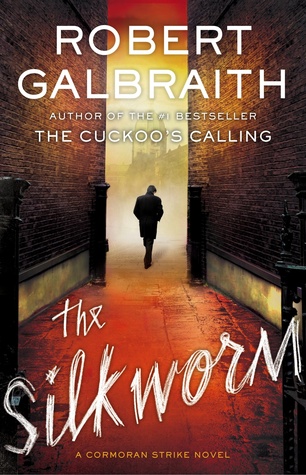 Image Source: Goodreads
Wikipedia revealed that this book received a lot of positive reviews from the medias.
The second installment for the Cormoran Strike's series,
The Silkworm
, has already been released on 19 June and you can read a two-chapters extract here. I already ordered it online and can't wait for the book to come :)
Here are some of my favorite quotes from the book:
"Unhappy is he whose fame makes his misfortunes famous.

"
"

The dead could only speak through the mouths of those left behind, and through the signs they left scattered behind them."
"When you are young, and beautiful, you can be very cruel."
---
Some trivias about the book:
When the novel was released to the public, Little Brown had described the author as a former plainclothes Royal Military Police investigator who had left in 2003 to work in the civilian security industry.

Sunday Times novelist and columnist, India Knight, notified Richard Brooks, her colleague to begin his own investigation about the newly author, Robert Galbraith. After discovering that Rowling and Galbraith had the same agent and editor, Brooks sent the books for linguistic analysis which found similarities, and subsequently contacted Rowling's agent who confirmed it was Rowling's pseudonym. Within days of Rowling being revealed as the author, sales of the book rose by 4000%.