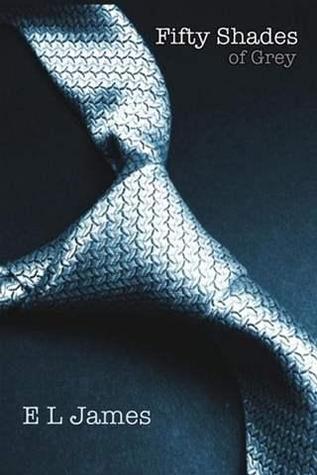 Image Source: Goodreads
Book Title: Fifty Shades of Grey
Author: E.L. James
Publisher: Arrow Books
Format: Paperback, Electronic Book, Audio Book, eBook Bundle.
Source: Purchased
Genre: Erotic Romance
Year: 2011
Page Count: 514
ISBN: 9780099579939
Find it at: The Official Website of E.L. James
Add to your Goodreads shelf.
Warning: Contains explicit adult materials for +17
My rating: 2.0 out of 5.0
Goodreads' Blurb:
When literature student Anastasia Steele goes to interview young entrepreneur Christian Grey, she encounters a man who is beautiful, brilliant, and intimidating. The unworldly, innocent Ana is startled to realize she wants this man and, despite his enigmatic reserve, finds she is desperate to get close to him. Unable to resist Ana's quiet beauty, wit, and independent spirit, Grey admits he wants her, too—but on his own terms.
Shocked yet thrilled by Grey's singular erotic tastes, Ana hesitates. For all the trappings of success—his multinational businesses, his vast wealth, his loving family—Grey is a man tormented by demons and consumed by the need to control. When the couple embarks on a daring, passionately physical affair, Ana discovers Christian Grey's secrets and explores her own dark desires.

Erotic, amusing, and deeply moving, the Fifty Shades Trilogy is a tale that will obsess you, possess you, and stay with you forever.
This book is intended for mature audiences.
---
Ana Steele, a final-year literature student, is asked by her best friend, Kate Kavanagh, to interview Christian Grey, a wealthy young entrepreneur, for an article on student newspaper. The short encounter leaves Ana's first impression of Christian as a controlling-

freak. Much to Ana's doubt that they will ever meet again, the two share coincidences from Christian showing up at Ana's workplace and Kate's demand for Christian belated photograph session for the article.
Christian and Ana then are getting along and someday he says his wishes to take their relationship to a new 'level', but then reveals that the one thing he wants is the 'dominance and submission' sexual relationship. Christian offers some contract about how their relationship is going to be, for Ana to sign, but he gives her some time to consider. Will she sign the contract in the end?
Fifty Shades of Grey is the first installment in the Fifty Shades trilogy. The second and third volumes are Fifty Shades Darker and Fifty Shades Freed.
---
First thing first, I want to admit that I put so much interest in this book after getting to know that everyone on the internet talks about it and some of my friends also read this book. It was ALL the consideration I had, to stubbornly want to get Fifty Shades of Grey on my hands. I only read a slightest synopsis of the book, and WITHOUT caring to probe further about what everyone has to say about it, I went to a local bookstore and immediately bought it. Please also note that I will not be commenting on the 'dominance and submission' sexual relationship matters, as I don't have any capacity to discuss it.
As a non-native English speaker, I acknowledge that this book is readable, not necessitating me to visit dictionary.com every thirty second. But when I started to read the first few pages of the book, I felt a strange tug, an imprint that reminded me a bit of Twilight Saga by Stephenie Meyer, where Ana is Bella Swan and Christian is Edward Cullen. The early idea where they build their relationship is even quite similar: Ana is said to be attracted by Christian, where the latter tries very hard to resist the temptation to approach her, since he realizes he is dangerous for Ana with his own inclination to have 'dominance and submission' sexual relationship. Meanwhile we can replace Christian's inclination to 'vampire status' in Twilight Saga, as Edward also sees that his being a vampire is dangerous for Bella.
Overlooking that thought, I continued to read until half of the book when I could no longer hold my curiosity and had a look at Goodreads. I was literally SHOCKED to find the fact that the writer INDEED, factually, wrote this book as a Twilight Fanfiction before having it self-published as her own novel. That is the very first failure I insist about this book. I mean, I indeed have never read that said-fanfiction, but that is not my point here. The writer may be able to take some ideas of Twilight, but couldn't she revise, improve, amend the plot, the main idea before she decides to market it???? I mean, if I wanted to read that fanfiction she wrote, why should i even bother to buy the book when I could read it on fanfiction site for free? I say it like this, since many reviewers confided that the book is not any different with the fanfiction version, only having to change the characters' names.
Second, I find no consistent plot and purpose in this book, since it is only about Ana who is head over heels for Christian and then agrees on everything he sets for her only because she wants him, even though she does not want the kind of relationship which Christian gives. And then what? What is the purpose the author wants to provide for the readers?
Third, I tell you that I am a person who appreciates process. I love reading a story which invites the readers to dive in the relationship process among the characters. The problem is that I do not discover any relationship process in Ana and Christian. It only happens that Ana falls in love with Christian at first sight and then she literally worships him throughout the book. The author could have taken the advantage of the first person point of view she has applied for the story. She could have explained and described what qualities (beside being rich and devilishly handsome) Christian does have to entrance Ana from Ana's point of view, therefore the author could have convinced me. But unfortunately the author can not afford to do that.
Fourth, I am also irked by the logic this book provides in some case. Such as when Christian confides to Ana that his parents are

never aware of the sexual abuse he suffered as teenager. Meanwhile there is a part on the book when Christian's mother visits his office and clearly says like this:
"But if he's still in bed, then he must be ill. He's never in bed at this time. Christian
never sleeps in."

What we can get from above excerpt is that Christian's mother is an observant and watchful person. While I do not read only a little amount regarding sexual abuse issues on minors, therefore I understand that victim of sexual abuse MUST give away some certain characteristics, no matter how small it is. So why Christian's mother NEVER notice any changes in her son, it is still beyond incredulity for me.

In the end, I give rating 2 for this book, that I appreciate the author's willingness to get her book published even though I'm still a bit certain that it's unethical to gain financial profit from what you previously published as fanfiction; and because I would like to encourage the author to provide something much better for her next works. For we, readers, deserve it.