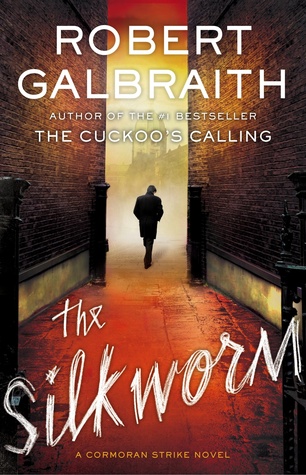 Image Source: Goodreads
Book Title: The Silkworm
Publisher: Sphere Books
(Little, Brown & Company)
Warning: Contains explicit murder scenes and some vulgarity.
My rating: 4.0 out of 5.0
Goodreads' Blurb:
When novelist Owen Quine goes missing, his wife calls in private detective Cormoran Strike. At first, Mrs. Quine just thinks her husband has gone off by himself for a few days—as he has done before—and she wants Strike to find him and bring him home.
But as Strike investigates, it becomes clear that there is more to Quine's disappearance than his wife realizes. The novelist has just completed a manuscript featuring poisonous pen-portraits of almost everyone he knows. If the novel were to be published, it would ruin lives—meaning that there are a lot of people who might want him silenced.
When Quine is found brutally murdered under bizarre circumstances, it becomes a race against time to understand the motivation of a ruthless killer, a killer unlike any Strike has encountered before...
---
Cormoran Strike has gained fame after solving Lula Landry's murder and thus brings various clients on steady streams. Someday a woman named Leonora Quine, turns to Strike's help for finding her husband, Owen Quine, who has been missing for two weeks. While others believe that it is Owen's other trick for seeking attention like he did before, Strike has another perception furthermore after hearing that Owen has just finished a manuscript containing very ugly methapors of people in his life, a book to be called
Bombyx Mori
.
Strike is not surprised when he found a dead Quine, but what is more than that that is the novelist's inhumanly murder which imitates the final fate of
Bombyx
, the main character of his book. Just like when Strike dealt with Landry's case, his assistant, Robin Ellacott, helps him collecting leads and proofs, even though later their rapport is kind of strained because of Matthew, Robin's fiance.
By thinking that everything's written in
Bombyx Mori
is the main lead for the murder, both Strike and Robin are racing with time to solve the case, even more when the police suddenly throws the blame to Leonora Quine, whom Strike convinces to be innocent.
---

As a huge fan of Ms. Rowling, I would never in the world, miss any books of her, especially when I have been fascinated by Cormoran Strike on the first book. In this second installment, there are some additions and changes I can spot.
I like the quotes and excerpts the author puts on every chapter title, which mirrors what happens within. The author also gets more detailed in knick-knacks of Strike and Robin's lives. While the plot of the book is totally more complicated than the first one.
For a common reader of crime fiction, I have to admit that the author is clever to entangle me in Owen's mysterious murder where I cannot even predict the real perpetrator in the end. The journey within the book makes me thrilled and shivered in some scene where the Quine's brutal murder is explicitly described.
As many readers will demand logic in books, the author also does not let Strike only drown in single case, but gets it balanced with any other small cases which is told as a stream of Strike's income.
I personally think that this second installment is so much better than The Cuckoo's Calling. If you haven't had your copy, go grab one. I really recommend it as a companion in your summer holiday. Hope the third book will come soon.
---
Here are some quotes from the book which I find really interesting:
"Though they spent so much time trying to make themselves beautiful, you were not supposed to admit to women that beauty mattered."



"Many lonely people, Strike knew, found it pleasant to be the focus of somebody's undivided attention and sought to prolong the novel experience."