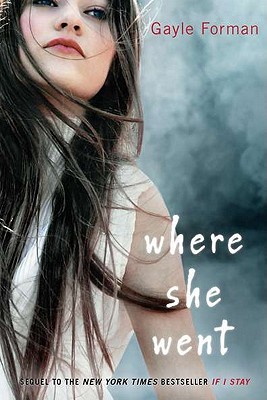 Image Source: Goodreads
Book Title: Where She Went
Author: Gayle Forman
Publisher: Speak - Penguin Group
Format: Compact Disc, Hardcover, Paperback, Paperback, eBook, Digital Audiobook
Source: Purchased
Genre: Young Adult, Romance
Year: 2011
Page Count: 260
ISBN: 9780142420898
Find it at: Official Website of Gayle Forman
Add to your Goodreads shelf.
My Rating: 5.0 out of 5.0
Goodreads' Blurb:
It's been three years since Mia walked out of Adam's life.
And three years he's spent wondering why.
When their paths cross again in New York City, Adam and Mia are brought back together for one life-changing night.
Adam finally has the opportunity to ask Mia the questions that have been haunting him. But will a few hours in this magical city be enough to lay their past to rest, for good - or can you really have a second chance at first love?
---
Opposite from the first book, Where She Went is narrated by Adam Wilde. The book takes moments in one day. In one day, like any other day, Adam wakes up, goes through her daily routines as the frontman of a bona fide rock group and deals with the emotional breakdown when Mia left her after her accident three years ago and thus he never sees and hears about her again.
In one day, the book recounts about Adam and Mia at the beginning of their relationship, a little about how he was coping when Mia was still in comatose condition, how the accident affected their relationship until Mia decided to one-sidedly end their relationship.
In one day, after a small fuss with a reporter, with his band manager's approval, he goes out for a walk to clear his head, surrounding the New York city. And there he sees an advertisement with a picture of her, telling him that there is to be her concert that night. In that one day, he will see her. Will Adam gets the answers to his questions all this time? Will Adam get a clear disclosure of their relationship? Will Adam be finally healed with his eventual encounter with Mia? Those all are to be answered in one day.
---
As I recall, there are not too many young adult books out there with male as its main character, or at least I haven't read them in a significant number.
I know that men have emotion too. They deal with happiness and sadness in quite different ways with women. Before I read this book, I could not believe or at least, haven't witnessed emotional breakdown on men. I don't believe that they will feel and hurt that deep.
But Gayle Forman fights against all my perceptions. She spells every little detail about Adam's emotional struggle amazingly that I sometime found myself agape when I read it. The first point of view the author adepts on If I Stay was awesome, it made me know how Mia feels and think. But in Where She Went, I could understand and felt in behalf of Adam. The narration in the whole book, made me like I
was
in Adam's head for real, and I
was
the one who experienced it all
as
Adam. The angst, depression, and tension Adam felt, I could feel it too.
Near the end of the book, I was already too depressed that I could only hope that Adam ended it all up with Mia, even I hoped that he would yell, shout and went mad at her, made her know how she had broken him down to the point he did not know who himself was anymore.
Apart from that all, I'm glad now that I've been over all that agony as the book was finished. And I willingly give this book the highest available rating in my standard for all the feeling experience the author rendered to me.