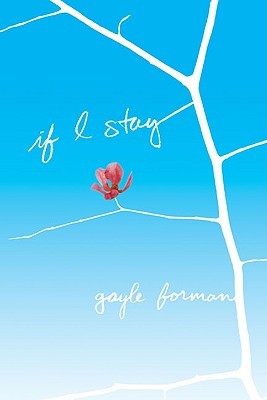 Image Source: Goodreads
Book Title: If I Stay
Publisher: Dutton Penguin
My rating: 4.0 out of 5.0
Goodreads' Blurb:
Just listen, Adam says with a voice that sounds like shrapnel.
I open my eyes wide now.
I sit up as much as I can.
And I listen.
Stay, he says.
Choices. Seventeen-year-old Mia is faced with some tough ones: Stay true to her first love—music—even if it means losing her boyfriend and leaving her family and friends behind?
Then one February morning Mia goes for a drive with her family, and in an instant, everything changes. Suddenly, all the choices are gone, except one. And it's the only one that matters.
If I Stay is a heartachingly beautiful book about the power of love, the true meaning of family, and the choices we all make.
Mia Hall is an ordinary teenager who lives a happy life with her parents and younger brother. She has a best friend, Kim Schein, who used to be her enemy. She is in a relationship with Adam Wilde, a cool guitarist of an arising band. And she is about to reach the next stage of her endeavor to have a career as a cellist.
Everything seems perfect until one morning, when the snow comes and it's seemingly good for the Hall family to take a day off and enjoy the boon. But then a truck comes out of nowhere and the accident is unavoidable. Mia then runs into a peculiar experience that while her physical body is in comatose, her spirit can actually float out and witness how her family, her boyfriend and her friends cope with her condition. Eventually Mia finds out that she can decide what is going to happen with herself. Will she stay or let go?
This novel is written in a first person narrative, which is Mia's and adapts a episodic plot, where flashbacks of Mia's daily life before the accident is alternately interpolated with the present condition.
The first time I turned the page and found out that the book is written in a first person narrative, I was a bit discouraged. Since the last first-person narrated book I read, ended up in a complete disaster. But Gayle Forman proves that she can handle it beautifully. She is able to show other characters' thoughts and traits from their speeches and gestures even though the main narrator is Mia, so the readers feel that they are real and human. That's what I think is the main issue with first-person narrated book. If the author cannot take advantage of it, there will be a huge failure in the whole book.

Since the theme of the story includes a comatose condition of the character, I thought it would also be a cheesy and mushy one, which I always encountered in another stories with the same plot. Instead the book gives me a dynamic journey with sadness and laughter as it recounts Mia's story.

I heard that the adapted movie will be released in no time. I can't wait to see how the director will choose to shoot the flashbacks part of Mia's story. That would be really cool, I think.

Meanwhile the second sequel book is en route. Hope it will arrive soon ;) Overall, this is one of the books I will recommend you if you like drama genre.