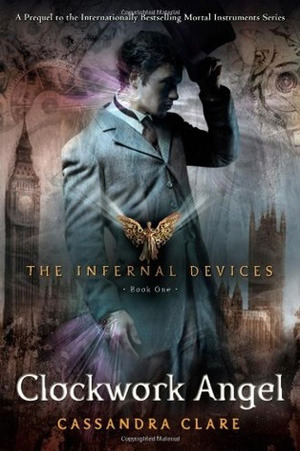 Image Source: Goodreads
Book Title: Clockwork Angel
Author: Cassandra Clare
Publisher: Margaret K. McElderry Books
Format: Hardcover, Paperback, Electronic Book, Audiobook
Source: Purchased
Genre: Young Adult, Fantasy, Romance
Year: 2010
Page Count: 476
ISBN: 9781416975878
Find it at: Official Website of Cassandra Clare
Add to your Goodreads shelf.
My rating: 4.0 out of 5.0
Goodreads' Blurb:
In a time when Shadowhunters are barely winning the fight against the forces of darkness, one battle will change the course of history forever. Welcome to the Infernal Devices trilogy, a stunning and dangerous prequel to the New York Times bestselling Mortal Instruments series.
The year is 1878. Tessa Gray descends into London's dark supernatural underworld in search of her missing brother. She soon discovers that her only allies are the demon-slaying Shadowhunters—including Will and Jem, the mysterious boys she is attracted to. Soon they find themselves up against the Pandemonium Club, a secret organization of vampires, demons, warlocks, and humans. Equipped with a magical army of unstoppable clockwork creatures, the Club is out to rule the British Empire, and only Tessa and her allies can stop them....
---
Taking place in London in around 1878, Tessa Gray flees to the city in order to seek for solace and shelter from her brother, Nathaniel Gray, after their aunt passes away. Once she arrives in the dull city of London, she finds no brother comes to claim her. Instead Tessa encounters two women who declare that Nathaniel sends them to fetch her up.
However the reality hits her when apparently the two women who call themselves as the Dark Sisters deceive her. Under order from The Magister, the Dark Sisters forces Tessa into a training to bring out and maximize her unknown potential of transforming perfectly into someone only by holding their possession.
Tessa then is rescued later by the Shadowhunters; William Herondale, Jem Carstairs and Henry Branwell. They bring Tessa under the sanctuary of The London Institute. Being clueless about everything before when she is a hostage of the Dark Sisters, she then learns about what her power really is.
Will Tessa be able to control her unique power is? Will she find her brother again?
Clockwork Angel is the first book of The Infernal Devices series. The next two installments are
Clockwork Prince
and
Clockwork Princess
.
---

My first sources of recommendations for books are my friends and book bloggers. I was intrigued to try reading one of Cassandra Clare's works when they all were worked up about The Infernal Devices and The Mortal Instruments series. Sometimes their recommendations did not work for me, but it does this time.
I honestly admit that I was totally clueless about what happens at the first two chapters. I did not get why Tessa is suddenly captured without any complete explanation. I even got a bit anxious and wondered if I needed to read The Mortal Instruments series first before did this one. But after doing some research on the internet, I concluded that it was safe to continue turning the pages. After some patience, everything begins to make sense.
The most favorite things from the book for me is the characters Will Herondale and Jem Carstairs. Among any other character relationship, the author seems to have done the best and real portrayal at their brotherhood. I love how the author describes that Jem is the only person whom Will treats differently from any others, even Tessa; and how Jem never fall out of temper with Will, when no one else can barely stand at him.
A few things that annoy me is that sometimes the author does not seem to be innovative at words management and there are much of phrase redundancy. I'm also a bit disappointed at the publisher since I got a few pages out of order at the end of the books. But over all I am excited to continue reading the next series for the sake of them. I'm particularly curious at Will's secret of why he left his families.
If you like fantasy genre, this book will be the one I recommend to you.