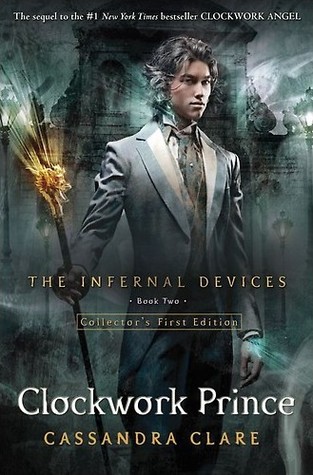 Image Source: Goodreads
Book Title: Clockwork Prince
Publisher: Margaret K. McElderry Books
Format: Hardcover, Unabridged Audio Download, eBook, Trade Paperback, Unabridged Compact Disk
Genre: Young adult, Fantasy, Romance
Year: 2011
My rating: 4.0 out of 5.0
Goodreads' Blurb:
In the magical underworld of Victorian London, Tessa Gray has at last found safety with the Shadowhunters. But that safety proves fleeting when rogue forces in the Clave plot to see her protector, Charlotte, replaced as head of the Institute. If Charlotte loses her position, Tessa will be out on the street—and easy prey for the mysterious Magister, who wants to use Tessa's powers for his own dark ends.
With the help of the handsome, self-destructive Will and the fiercely devoted Jem, Tessa discovers that the Magister's war on the Shadowhunters is deeply personal. He blames them for a long-ago tragedy that shattered his life. To unravel the secrets of the past, the trio journeys from mist-shrouded Yorkshire to a manor house that holds untold horrors, from the slums of London to an enchanted ballroom where Tessa discovers that the truth of her parentage is more sinister than she had imagined. When they encounter a clockwork demon bearing a warning for Will, they realize that the Magister himself knows their every move—and that one of their own has betrayed them.
Tessa finds her heart drawn more and more to Jem, but her longing for Will, despite his dark moods, continues to unsettle her. But something is changing in Will—the wall he has built around himself is crumbling. Could finding the Magister free Will from his secrets and give Tessa the answers about who she is and what she was born to do?
As their dangerous search for the Magister and the truth leads the friends into peril, Tessa learns that when love and lies are mixed, they can corrupt even the purest heart.
---
There is no personal summary from me as the Goodreads' blurb above is more than enough to explain what is needed to know for peekers. This second book is absolutely much better than the first installment. In Clockwork Prince, I get to know the more profound yet dark secrets entangled each character, and encounter the fact that one of the Institute occupants betrays them (but I think you can already guess who it is).
The book also lets various point of views than the previous one, which almost majority is occupied by Tessa Gray, e.g. there are of Will Herondale, Charlotte Branwell, Sophie Collins, etc and that enables the readers to comprehend each character's trait more. I'm glad that the author finally reveals what is more to Will's self-destructive and provides a well-enough closure even though there is a really startling news that is going to complicate his relationship with Tessa. This is one of the causes I can't wait to read Clockwork Princess.
Clockwork Prince is the second novel in the Infernal Devices trilogy. The first installment is
Clockwork Angel
(click
here
to see my review for the book) and the last one is
Clockwork Princess
.