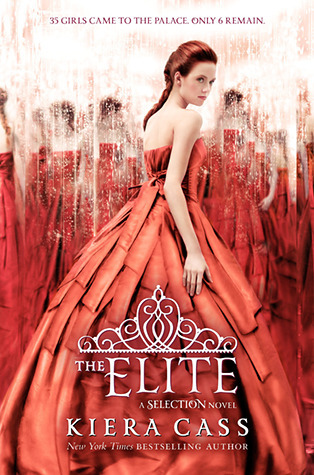 Image Source: Goodreads
Book Title: The Elite
Author: Kiera Cass
Publisher: HarperTeen
Source: Purchased
Genre: Dystopian Young Adult
Year: 2013
Page Count: 323
ISBN: 9780062059970
Add to your Goodreads shelf.
My Rating: 3.5 out of 5.0
---
Goodreads' Blurb:
The Selection began with thirty-five girls.
Now with the group narrowed down to the six Elite, the competition to win Prince Maxon's heart is fiercer than ever—and America is still struggling to decide where her heart truly lies. Is it with Maxon, who could make her life a fairy tale? Or with her first love, Aspen?
America is desperate for more time. But the rest of the Elite know exactly what they want—and America's chance to choose is about to slip away.
---
This second book continues America Singer's journey as part of the Selection participants to become the crown princess of Illea. As Maxon's promise at the first book that he wants to keep America as long as possible to help her mend her broken heart at the palace, America is now one of the six Elites, along with her best friend, Marlee.
However it is not that simple. As both of them realizes their fondness to each other, things keep getting complicated. America is still not sure whether she wants Maxon or Aspen, the rebels getting more savage as they break down to the palace a number of times and when Maxon is becoming tired of America's hesitancy, he turns to the other Elite, Kriss Ambers.
The Elite is the second book of The Selection series. The previous book is The Selection, and the third one is The One. The fourth installment, The Heir, will be released on summer 2015. Kiera Cass also published two companion novellas for the series; The Prince and The Guard. To read my review for The Selection, please click here.
---
Personally, this second book is a bit annoying for me. There are just too many times at America's narration which is kind of boring, not plausible and inconsistent, whenever she comes to think about Maxon and Aspen. I don't think that America is a dull character, but the author fails at the her characterization in only a little part, but significant one. Such as when America meets again with Marlee after the latter leaves the palace, the author even makes a much better job on Marlee than America.
In my opinion, the book would be much better if the whole romance part was cut. The idea about the process of the Selection, the mystery behind the palace politics and social issues are brilliant. But the Kiera Cass is just not a good romance author.
Despite being a bit disappointed with this installment, I will still carry on to the third book. The book still has that promising chance, I believe. I hope the author will mend this issue in The One.