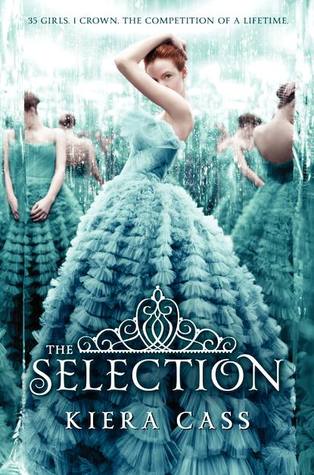 Image Source: Goodreads
Book Title: The Selection
Author: Kiera Cass
Publisher: HarperTeen
Source: Purchased
Genre: Dystopian Young Adult
Year: 2012
Page Count: 327
ISBN: 9780062059949
Add to your Goodreads shelf.
My rating: 4.0 out of 5.0
Goodreads' Blurb:
For thirty-five girls, the Selection is the chance of a lifetime. The opportunity to escape the life laid out for them since birth. To be swept up in a world of glittering gowns and priceless jewels. To live in a palace and compete for the heart of gorgeous Prince Maxon.
But for America Singer, being Selected is a nightmare. It means turning her back on her secret love with Aspen, who is a caste below her. Leaving her home to enter a fierce competition for a crown she doesn't want. Living in a palace that is constantly threatened by violent rebel attacks.
Then America meets Prince Maxon. Gradually, she starts to question all the plans she's made for herself--and realizes that the life she's always dreamed of may not compare to a future she never imagined.
---
In the country of Illea, people are distinguished by castes which each one has their own rights and obligations. A higher number of caste you are born into, a lower your position in the society. When the palace announces the Selection for every young lady of Illea to win the place as Prince Maxon's mate, America Singer is forced to participate by her mother. Being a family of a Caste Five, the Singer family is sure that the Selection would absolutely lift their social status if America was ever selected.
Torned among the unwillingness to participate, determination to help her family and being heartbroken by her secret lover, America reluctantly comes to the palace when she is entitled for the Selection. When she accidentally bumps into Prince Maxon in the night before even the other Selected girls are entitled to officially meet him, America begins her cordial relationship with the Prince. She then volunteers to help Prince Maxon selects the girls as she is certain she has no romantic feeling toward him. But would she really never fall into the prince's charm?
The Selection is the first book of The Selection series. The next book are The Elite and The One. The fourth installment,
The Heir, will be released on summer 2015. Kiera Cass also published two companion novellas for the series;
The Prince and The Guard. To read my review for The Elite, please click here.
---
I am a completely sucker for romance. That is my first confession. So when I read the blurb of this book from the internet, I was immediately interested and wanted to get my hands so much onto it.
I'm fairly entertained by the author's means of remaking the typical romance plot, and also appreciate the relationship development between America and Maxon. Even though I am a bit irked at America's former involvement with Aspen, but the author does not really explain from their first romantic journey until the recent stage, so I guess that is still acceptable.
The book makes me dying to get to the second installment as I really want to know Aspen's secret and how America eventually is selected to be The One. If you have the relish for romance novel, I guess this series is worth to try :)