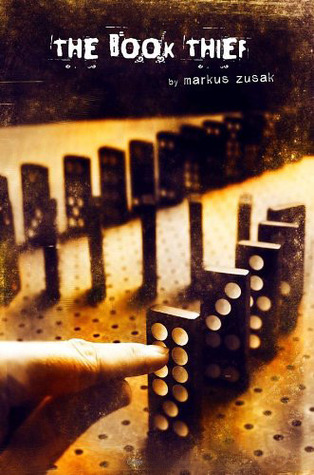 Book Title: The Book Thief
Author: Markus Zusak
Publisher: Definitions
Source: Purchased
Genre: Historical Fiction
Year: 2005
Illustrator: Trudy White
Page Count: 584
ISBN: 9781862302914
Add to your Goodreads shelf.
My Rating: 4.0 out of 5.0
---
Goodreads' Blurb:
It's just a small story really, about, among other things, a girl, some words, an accordionist, some fanatical Germans, a Jewish fist-fighter, and quite a lot of thievery.
Set during World War II in Germany, Markus Zusak's groundbreaking new novel is the story of Liesel Meminger, a foster girl living outside of Munich. Liesel scratches out a meager existence for herself by stealing when she encounters something she can't resist: books. With the help of her accordion-playing foster father, she learns to read and shares her stolen books with her neighbors during bombing raids - as well as with the Jewish man hidden in her basement before he is marched to Dachau.
This is an unforgettable story about the ability of books to feed the soul.
---
It's my second trial for historical fiction genre (after Anthony Doerr's All the Light We Cannot See) and guess what? I'm in love with this kind of genre! :) I might be a little too late reading this one, after finding out that everyone talked about this book and it was
even
adapted into movie.
So, there are lots of things I love about this book. Starting from its narration from Death (yes, it's Death. You are not reading it wrong), which I found really interesting and quite amusing. I have never known that Death's character could be that funny and amusingly sarcastic. I really liked the characterization the author gave to Liesel Meminger too. Her narrative was real for me, and made me smiles on some occasions for her naivety of a young child.
As a non-native English speaker, I found that the vocabularies were really simple and understandable, that it didn't require me a very long time to read this book. I willingly recommend this book for those who love historical fiction.
I might watch the movie in no time after this, to find out whether it is like what I have imagined in my head or not :P
Meanwhile I'm currently in big dilemma. I'm not sure I have to continue reading The Clockwork Princess or not. I have reached the first two chapters of the book, but I'm kind of disappointed with the author for finding no character's and plot development in the book, as well as her writing style, which made me frustrated. Tell me if you feel the same with me, since I really need someone to discuss this book with :|