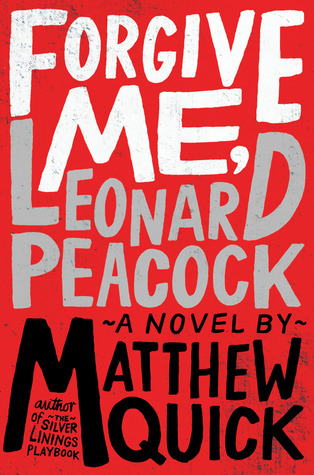 Book Title: Forgive Me, Leonard Peacock
Author: Matthew Quick
Publisher: Little, Brown and Company
Source: Purchased
Genre: Young Adult, Contemporary
Year: 2013
Page Count: 273
ISBN: 9780316221351
Find it at: Matthew Quick's Official Website
Add to your Goodreads shelf.
My Rating: 5.0 out of 5.0
---
Goodreads' Blurb:
Today is Leonard Peacock's birthday. It is also the day he hides a gun in his backpack. Because today is the day he will kill his former best friend, and then himself, with his grandfather's P-38 pistol.
But first he must say good-bye to the four people who matter most to him: his Humphrey Bogart-obsessed next-door neighbor, Walt; his classmate, Baback, a violin virtuoso; Lauren, the Christian homeschooler he has a crush on; and Herr Silverman, who teaches the high school's class on the Holocaust. Speaking to each in turn, Leonard slowly reveals his secrets as the hours tick by and the moment of truth approaches.
In this riveting look at a day in the life of a disturbed teenage boy, acclaimed author Matthew Quick unflinchingly examines the impossible choices that must be made—and the light in us all that never goes out.
---
After reading two works of Matthew Quick, now I'm really sure he's a very kind man. I want to meet him in person and give him the biggest hug in the world. Seriously, how can an author manage to write two books that effectively dried my eyes from tears while I was reading them? T_T
Leonard Peacock is another ordinary teenager who is damaged. He's being bullied at school, no one befriends him, and his parents don't care about him. The four people who give a care are his old neighbour, one of his classmates, a devout Christian girl and his teacher. As I read through the book, these four people are the only one who at least can bring some happiness to Leonard.
Quick also once again puts one of the kindest characters I ever read. This time, it is Herr Silverman, Leonard's teacher. He plays the biggest part that determines Leonard's decision in the end.
About the main character, Leonard is also a very unique character. Even though he's been disappointed by so many people in his life, he got me thinking that he still cares about them and believes that everyone should not be forced to live a life they don't like. He's a contemplating and even a sweet boy, I think. There are only few authors that can create a character who makes me want to scream about the injustice they are through, and want to laugh at the same time at the naive, quirky and witty voices they bring.
I really want to thank you to Matthew Quick for writing this kind of book. I'm wondering what a wonderful world we live in would be, if everyone read books like this and was changed to be a better person because of them.
Read my review for Matthew Quick's Sorta Like a Rock Star here.