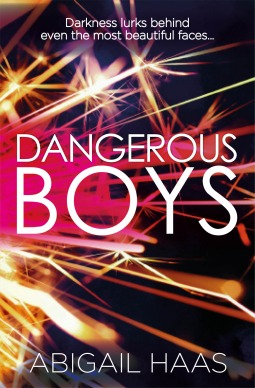 Book Title: Dangerous Boys
Author: Abigail Haas
Publisher: Simon and Schuster
Source: Purchased
Genre: Young Adult, Mystery
Year: 2014
Page Count: 328
ISBN: 9781471119163
Find it at: Abigail Haas' Official Website
Add to your Goodreads shelf.
My Rating: 5.0 out of 5.0
---
Goodreads' Blurb:
Three teens venture into the abandoned Monroe estate one night; hours later, only two emerge from the burning wreckage. Chloe drags one Reznick brother to safety, unconscious and bleeding; the other is left to burn, dead in the fire. But which brother survives? And is his death a tragic accident? Desperate self-defense? Or murder?
Chloe is the only one with the answers. As the fire rages, and police and parents demand the truth, she struggles to piece together the story of how they got there-a story of jealousy, twisted passion, and the darkness that lurks behind even the most beautiful of faces…
---
Two days...
Two days I was tortured by suspense from these Haas' books. I was never a fan of mystery novel before, but Abigail Haas has opened that door to this genre for me.
Firstly, this book is not the sequel of Dangerous Girls. It's totally different from Haas' previous work. Dangerous Boys is written in the first point of view of Chloe Bennet, in spite of the title. It alternately changes from the present and past. Chloe has been living in a small city since she was born. She is a normal girl, always goes with the stream in her life. She dreams of leaving the town once she graduates from high school, but it is shattered when her mother falls to depression, leaving her as Chloe's responsibility. During this moment, she meets Ethan Reznick, who is going to be her boyfriend and at first she believes that he is the only thing that keeps her holding on with all those pressure. While she's trying hard to accept the fact, she meets Oliver Reznick, Ethan's older brother who is the total opposite from his younger brother. Oliver is all Chloe needs to bring out the her inner demon.
Yes, I write it correctly: 'demon'.
Even though this book is not as nerve-wrecking as Dangerous Girls, it's still a very powerful book. To say it out loud, this book is about damaged people. It's about how desperate you are in finding your own way in life, to do something in order to be someone. Haas once again drags out the worst of each character in Dangerous Boys.
Throughout the story, you will once again guess and speculate about things, which will turn out wrongly at the end. You will be surprised on whom Chloe saves and why. Just like me lol
Dangerous books are really recommended for those who like to be in suspense and find gritting truth about the characters in the end. Two thumbs up for Abigail Haas!
Also read my review for Dangerous Girls here.