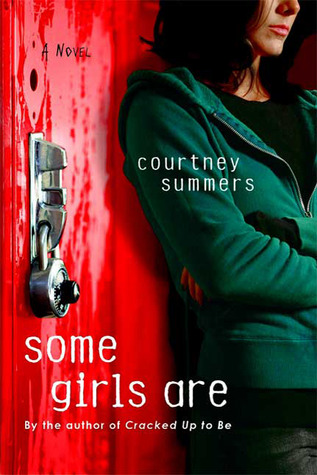 Book Title: Some Girls are
Author: Courtney Summers
Publisher:
St. Martin's Griffin
Source: Purchased
Genre: Young Adult, Contemporary
Year: 2010
Page Count: 246
ISBN: 9780312573805
Find it at: Courtney Summers's Official Website
Add to your Goodreads shelf.
My Rating: 5.0 out of 5.
0
---
Goodreads' Blurb:
Climbing to the top of the social ladder is hard—falling from it is even harder. Regina Afton used to be a member of the Fearsome Fivesome, an all-girl clique both feared and revered by the students at Hallowell High... until vicious rumors about her and her best friend's boyfriend start going around. Now Regina's been "frozen out" and her ex-best friends are out for revenge. If Regina was guilty, it would be one thing, but the rumors are far from the terrifying truth and the bullying is getting more intense by the day. She takes solace in the company of Michael Hayden, a misfit with a tragic past who she herself used to bully. Friendship doesn't come easily for these onetime enemies, and as Regina works hard to make amends for her past, she realizes Michael could be more than just a friend... if threats from the Fearsome Foursome don't break them both first.
Tensions grow and the abuse worsens as the final days of senior year march toward an explosive conclusion in this dark new tale from the author of Cracked Up To Be.
---
Another mind-blowing story from Courtney Summers!
Just like Cracked Up to Be, Some Girls Are is a story of high school teenagers. In this book, the main character is Regina Afton, who was once a member of a feared girls-gang in Hallowell High, led by her best friend, Anna Morrison. On one occasion, Anna is convinced that Regina has an affair with her boyfriend. Regina then is frozen out and bullied by the gang and avoided by the students, except for one nerd and misfit, Michael Hayden.
If I could feel the sensation of being Parker in Cracked Up to Be, in this book, I only needed to put myself as the reader, but felt the magnificent effect that gnawing my mind. This book creeps me out. I know the bullying in this book is not that nasty as what I heard in real life from other sources, but the way the author describes and drives the story are the one which put fear and horror into me.
In her trademark, the author puts some mystery and reveals it little by little in the most vague ways, which made me wondering whether I got my interpretation right or not. In short, I think every teenagers, teachers and parents should read this book. No, they should read all Courtney Summers books so that they can understand what really happens in high school.
Hell, it even brought me the aftereffect to fight bullying in every way and form in real life.
I think I need to take a rest for a while from Courtney Summers' works. Fall for Anything should be the next of her works that I will read after this. Once again, read her books, people!