Book Title: The Piper's Son
Author: Melina Marchetta
Publisher: Candlewick Press
Source: Purchased
Genre: Young Adult, Contemporary
Year: 2010
Page Count: 328
ISBN: 9780763660628
Add to your Goodreads shelf.
My Rating: 5.0 out of 5.0
---
Goodreads' Blurb:
The award-winning author of Finnikin of the Rock and Jellicoe Road pens a raw, compelling novel about a family's hard-won healing on the other side of trauma.
Award-winning author Melina Marchetta reopens the story of the group of friends from her acclaimed novel Saving Francesca - but five years have passed, and now it's Thomas Mackee who needs saving. After his favorite uncle was blown to bits on his way to work in a foreign city, Tom watched his family implode. He quit school and turned his back on his music and everyone that mattered, including the girl he can't forget. Shooting for oblivion, he's hit rock bottom, forced to live with his single, pregnant aunt, work at the Union pub with his former friends, and reckon with his grieving, alcoholic father. Tom's in no shape to mend what's broken. But what if no one else is either? An unflinching look at family, forgiveness, and the fierce inner workings of love and friendship, The Piper's Son redefines what it means to go home again.
---
I'm in love with Melina Marchetta. Totally.
The Piper's Son is another contemporary work from her and, it's like a spin-off of Saving Francesca, only this time the main characters are Thomas Mackee, Francesca's friend; and Georgie Finch, his aunt. While Saving Francesca applies first person naration, The Piper's Son uses third-person one and Marchetta has proven that she is the author who can handle everything perfectly.
There are several themes this novel raises. The relationship between Tom and his father, who is an ex-alcoholic; the friendship with his so-called ex friends who never give up on him, the girl Tom betrayed; the long grief of Tom's family towards the sudden death of Tom's beloved uncle; and Georgie's unexpected pregnancy and her strange relationship with her unborn child.
Seeing those considerable themes, one is likely to doubt the capability of the author to handle it. But once again, it's Melina Marchetta! No need for such thought.
Just like what it was with Saving Francesca, the author writes the first hundred pages of the novel in such way it's full of mystery. You might find yourself puzzled with what's really going on in the novel, but that was what kept me going, the author's inexplicable way to reveal one by one like peeling an orange.
And now I'd like to talk about the cover. Actually what I got is the other version of the cover: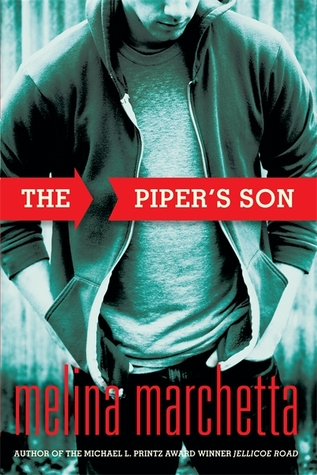 It's really indie, but I don't get the feeling that the man in the cover is Tom, which I think the major character among the others. Instead I think it's Tom's father, Dominic. Since the texture of the figure says it doesn't belong to someone below twenties. I much prefer the Australian version (on the preface of this post) than this one. It really resembles Tom in such way.
This novel is one of those which I won't forget as long as I live. It brought me sadness, warmth feeling on how a family unites to fight the grief despite all their broken relationship, and what a truly friend is like.
Thank you very much, Ms. Marchetta for such a warm book.